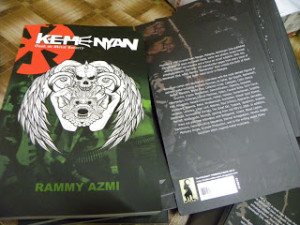 Attention all Malaysian metalheads and borderline punks, for there is another book  worth buying and reading in this fall of 2015!
I'm talking about Kemenyan — Book of Metal Sorcery by Rammy Azmi – also known for being late Blackfire's guitarist, drummer of Wreckar, and man behind Faithcraft Productions Records and blog.
This book collects the best interviews, all in English, that Rammy published in his fanzine Kemenyan. The interesting thing about this book is the presence of pretty controversial bands such as AS-SAHAR. Their views are reported here for historical and archival sake, precises Rammy. "I don't necessarily have to agree with what they say, but by negating the existence of such bands, we force a piece of history of Malay/Nusantara metal to be forgotten in the cracks of time," he precised to me via email. And I cannot agree more.
There are key historic interviews with the likes of AS-SAHAR, IMPIETY, HAYAGRIVA, BETHEL, BAL-SAGOTH, CASTIGATE, BLACKFIRE, CELTIC DANCE, CALLENISH CIRCLE, DEPRESY, DEMONIFICATION, DESASTER, GRIM FORCE, CYPTIC MALEDICTION, LANGSUIR, IRONSWORD, ETERNAL MADNESS, NEBIRAS, VARATHRON, BEHEMOTH, WOLFBRIGADE, SENTENCED and many many more.
Plus new disscussion with BLOOD LEGION, MORTUARY DRAPE, DARKTHRONE, ETERNAL ARMAGEDDON, HERETIC ANGELS, BELLIGERENT INTENT and GRUNDAR PRODUCTION.
You can order your copy by following the instructions here.