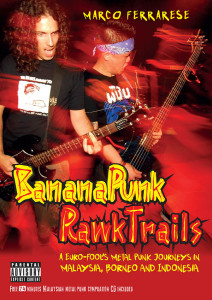 Banana Punk Rawk Trails is the first-person account of how it was to be a white European inbred metal punk schizoid with a penchant for cheesy 1970s Southern Rock in a globalised world of transnational extreme music chop suey.
In fact, between 2010 and 2014, Marco Ferrarese was the only "white elephant in the room" of the Malaysian metal punk scene. In this book, he's not just content to tell you how it was to play guitar in Penang's thrashcore band WEOT SKAM, negotiating flimsy stage set-ups and shady promoters in order to gel into a developing world's music scene.
No. He also packed bags and travelled the whole length of Malaysian Borneo scouring for sonic extremities, chasing down longhaired metal punk descendants of Iban headhunting tribes, scrawny Bidayuh Anarcho-punk rockers, Kadazan-Dusun artist activists, and Muslim death metallers. Still drenched in tropical mosh pit sweat, next he hopped on a plane to tell all about WEOT SKAM's first Indonesian tour.
This DIY hellish sleigh ride starts in the bowels of megalopolis Jakarta, cuts through the whole length of Java, and ends fencing off drunk Australian Bogans in the vicious streets of Kuta, Bali.
Of course, Banana Punk Rawk Trails will leave you wanting for much more electricity, exactly as if you were one of the guitar cables Ferrarese always thrashes out of their sockets as he jumps forward to punish yet another Southeast Asian crowd…
Written by a former European hardcore punk impresario who mingled and played with the cream of the crop of its bands, Banana Punk Rawk Trails is the first English language book on the metal punk scene of Malaysia and Indonesia to be produced locally in Southeast Asia. With its gritty reportage style and a collection of over 250 black & white pictures, it expands and deepens the work done by  A Labour of Love and Hate.
Such a fresh, quirky story will appeal equally to fans of metal and punk, travellers and adventurous backpackers worldwide, and to the growing segment of laypeople and academics interested in Southeast Asian and East Asian popular culture and cultural studies.