I recently discovered that, besides BANANA PUNK RAWK TRAILS, others are producing interesting work on Malaysian, Indonesian and Singaporean hardcore punk.  The Other Option is a recent documentary on Australian punk and hardcore bands and their touring routes to Southeast Asia. Check the official trailer here:
Intrigued by it, and especially because I lived in Australia in 2009, I immediately contacted director Rohan Thomas to ask him why he decided to get involved in such a project. I also wanted to know if it's true that, as I thought, Southeast Asia has become a crucial territory for the promotion and touring of Australian hardcore punk bands.
The following is an interview I conducted with Rohan by email in December 2015.
What moved you to investigate this particular topic?
I used to run a punk rock podcast before working on this film. For my third show I interviewed a band from the Gold Coast called Not OK who had just toured South East Asia. Two things jumped immediately out at me. First, there was a punk scene in South East Asia – and I wondered, what it was like?
Second, I just saw Not OK play a local show in front of about 10 people. How did they go from this to playing a 12 date overseas tour in Asia to packed rooms and festivals? Once I started investigating these two questions, I thought that the history of Australia and Southeast Asian punk rock touring was interesting enough to try and document it.
When I lived in Australia, I noticed how the sheer distances and the harsh nature of the landmass make music scenes very separated, and touring quite costly. Do you agree? Is this one of the reasons why Australian hardcore, punk and metal bands have decided to come play in Southeast Asia increasingly ?
Absolutely. In fact, that exact point is covered in the introduction to the film. Particularly for bands starting out in Australia and trying to build some momentum, it is so attractive to not have to drive an entire day – with all the fuel, food, and transport expenses involved – to play one show in front of a handful of people, when there were these stories from Asia… people said that you could get the chance to play different shows, be driven around or get cheap flights, and maybe fill two whole weeks with shows. It's definitely the major reason for the explosion of Aussie punk bands touring the region.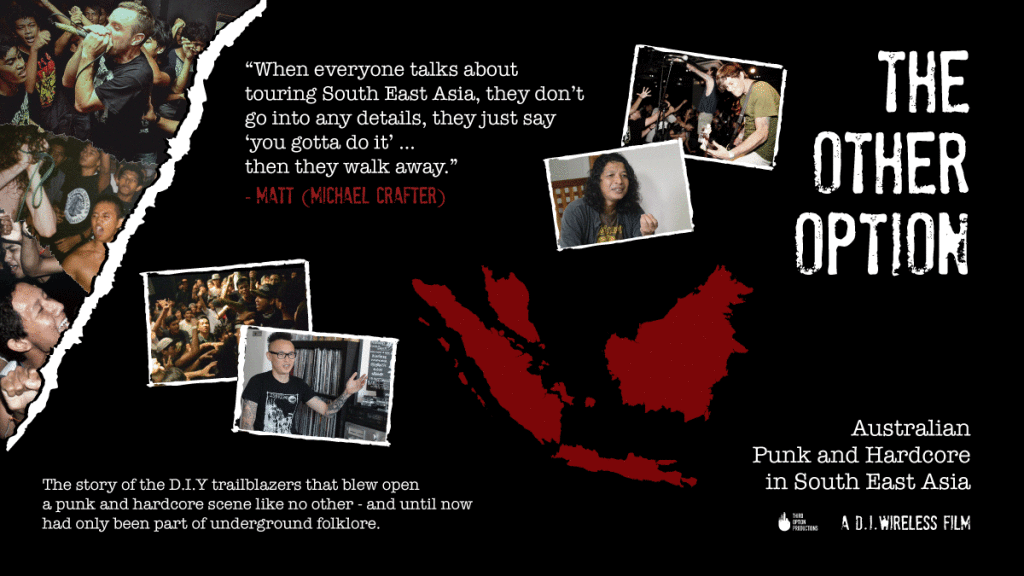 How did you research the topic, and what is your main goal with The Other Option?
Research started with emails to random people, promoters, bands in SEA. I asked simple questions about their scenes, their relationship with Aussie bands, and a timeline of exactly who travelled and when. I was living in Canada at the time, and on my way back to Australia I stopped in Southeast Asia for three weeks. I met as many people as possible, and understood that the idea of a documentary could become reality. I came home, wrote a script, and got in touch with all the Aussie bands involved. I started shooting interviews and gathering archive footage and photos about a year later.
Do you think Australian bands these days are rightly valued around the world?
If there is one thing I have learnt – not just from The Other Option but also from all my podcast work – it is that Australian punk and hardcore stacks right up there with any international scene. There is an obvious appreciation from Southeast Asian scenes because we are neighbours, and so many Aussie bands go there. But I really think that Australian bands are just as good as anything out there. Everyone says that about their own scene of course, but it took me a while to really understand and back up this statement.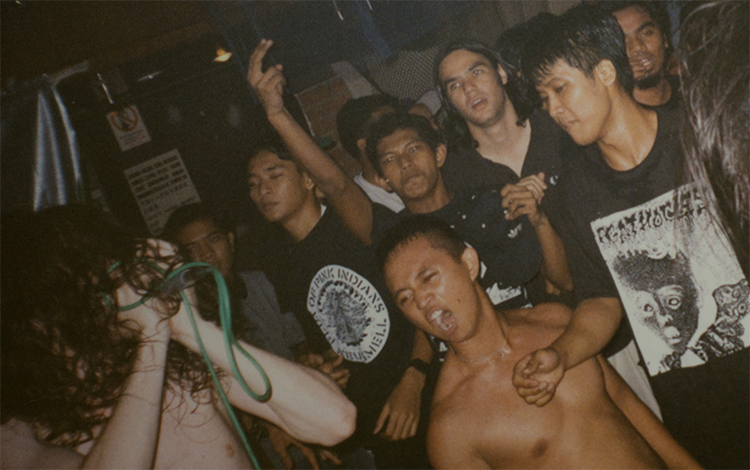 What is your general opinion of the Southeast Asian scene? Do you think bands and infrastructures are at level? What is different from Australia's?
I have honestly come away from this experience believing that the Southeast Asian scenes are worlds of contrasts. On one hand, they live in the same digital age as we do with social media, YouTube etc and deal with some of the exact same issues that Australian scenes face, such as building an audience, venues closing and typical scene politics. But then, on the other hand, the scenes in Asia deal with issues that are completely out of this world when compared with what Australians face at home. Everything, from obvious economic disparity, to serious threats and oppression from authorities, to heavy societal and religious expectations… I mean, who organises a show at a train station??! But it's also the stories surrounding all this that have made touring the region so attractive. On top of that, the fact that people in the scenes there work so hard and are so welcoming, despite dealing with all this extra, potentially dangerous bullshit, that's the real reason why Aussie band love it.