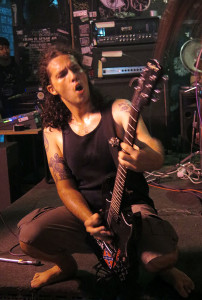 MARCO FERRARESE has been a 'professional' underground metal punk guitar slinger between 1994 and 2007.
He hit the most famous and infamous stages across Europe and the United States playing metal punk guitar for The Nerds, and toured with and booked shows for  bands the caliber of Cripple Bastards, Slough Feg, Orange Goblin, Weedeater, Brothers of Conquest, MINSK, Bible of the Devil, Last Vegas and countless others.
He travelled across 60 countries and lived in Italy, the United States, China, Australia and Malaysia.
His debut novel Nazi Goreng, a quirky subcultural thriller set in the world of Malaysia's Nazi-Skinhead culture and international drug smuggling ring, was published by Monsoon Books in November 2013. It quickly became a national bestseller, with a second print after a mere five months.
Nazi Goreng was translated into Malay by DuBook Press in June 2015 just before being banned by the Home Ministy of Malaysia. Ferrarese's short stories were featured in anthologies KL Noir Blue and Lost in Putrajaya (Fixi, 2014).
Ferrarese participated as a speaker to the Singapore's Writers Festival and George Town Literary Festival in 2013 and 2014. He has also contributed  academic articles on metal in Southeast Asia to Metal Music Studies and International Journal of Community Music, and is a member of the International Society for Metal Music Studies.
Ferrarese's travel and culture writing continues to appear in many international publications, most notably: Travel + Leisure Southeast Asia, Time Out, CNN Travel, Korean Airways' Morning Calm, JetStar Asia, Singapore Roads and Kingdoms, Bangkok101, Perceptive Travel, Southeast Asia Globe, Penang Monthly and Vagabonding. When not on the road and/or writing freelance, he helps Italian label Cruz del Sur Music push contemporary retro-metal classics to the headbanging masses.
Banana Punk Rawk Trails is Ferrarese's second book, and was published at the end of 2015 by SIRD.