A Friday perk for you readers:
GET ONE FREE SIGNED BOOK (+ 74 Minutes CD)!!!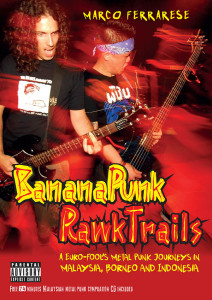 How?
SUBSCRIBE to the Banana Punk Rawk Trails Mailing List!
ONE person among the first 50 to subscribe will be sorted and will receive a FREE COPY!!  (Note well that the book will ship after release date, 28 November 2015)
The others will keep receiving news and promotions. Which will include discounts and other perks… so no worries, your email won't be given away for nothing. It's a fair, devilishly exchange.
HOW TO SUBSCRIBE:
1) Look left and up the left column, chimp. There is a SIGN UP form. Let it do its magic.
2) Click here
OFFER LASTS UNTIL 50th person signs-up.

GOOD LUCK! And share this wherever you feel worth, thanks.